After spending 6 months in Mexico for my internship, I had the opportunity to do a semester abroad at Victoria University in Melbourne and this was my next destination for another 6 months – Australia. Besides studying and attending university lectures we had great time together with Ozzies as well as other students from my university in Germany.
Melbourne is such an amazing and vibrant city to live in, and I enjoyed every single bit there. This city holds many surprises: it has the most elaborate Victorian architecture of all Australian cities; it has a variety of restaurant cuisines, hosts many sports and cultural events, and its most defining characteristic is its cultural diversity.
Daily I was traveling 1 hour from my apartment to university and the locations couldn't differ more from each other. I was living in a shared apartment in Toorak, Melbourne's wealthiest community, whilst Victoria Universtiy Campus was in Footscray and each morning I walked through "Little Vietnam". Melbourne was also the place where I got to taste all various types of cuisines that I never had before in Germany, and every week we discovered a new place.
Melbourne's city center can be easily explored by foot and walking down Swantson Street to admire its Victorian architectures such as Flinders Street Station, the Town Hall, St. Paul's Cathedral or the modern Federation Square offering various attractions and outdoor events. The Queen Victoria Market is a must-visit. It is the largest open-air market in the southern hemisphere and about 1000 stalls sell fresh fruit and vegetable, fish, meat, cheese and organic food. In the evenings it is quite nice to walk on the Southbank Promenade along Yarra River as there are many restaurants, cafes and bars.
Another fancy area, where I liked to hang out, was in South Yarra and Prahran. Chapel Street is lined up with shops selling local and international fashion designs and offering a variety of up-market restaurants, cafes and bars. Prahran Market sells the best in fresh produce and also a great place to visit. I loved buying fresh home-made pasta there! But there are more areas to explore in Melbourne such as Carlton that has a large Italian community and hence you find many cute trattorias. Or there is also Fitzroy where many artists, young people and various ethnic communities from around the globe. St. Kilda is another vibrant lifestyle-hub worth a visit. I could go on forever, but there is simply so much to discover when living there for 6 months.
Melbourne also hosts the annual Formula 1 Grand Prix and we did not think twice to watch the race live that goes around Albert Park composed with a nice lake in the centre. Following the race, there was a concert held by the band "KISS". It's not exactly my type of music but it was still an amazing concert on the racing course.
Obviously, we did not only spend our weekends in Melbourne but also wanted to see the surroundings. So for example we have spent one weekend at Bells Beach (about 100km from Melbourne) where the Rip Curl Pro surf championship takes place every year and we went to watch the competition. We were even that lucky to spot the famous surf legend Kelly Slater having sushi for lunch at a restaurant in Torquay.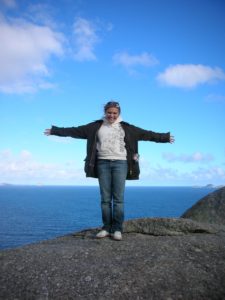 Another weekend, we headed south of Melbourne to Wilsons Promontory and Phillip Island. Wilsons Promontory offers many wonderful walking opportunities for visitors of all ages and fitness levels – from short walks to day walk, through forests or along beaches with stunning views. On Phillip Island however, you find beautiful beaches offering as well great surfing spots. Every evening at sunset at all times of the year, hundreds of little penguins come ashore at Summerland Beach and waddle across the sand.
As you can see there is so much to explore and even though I lived there I was not able to see everything. These were just my first impressions of Australia, and at that time I still had no idea what else this beautiful continent has to offer.