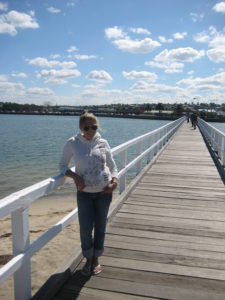 During Easter we had two weeks of vacation and obviously there was no way I would be sitting in Melbourne doing nothing. I wanted to see Australia and what this continent has to offer. Hence, another German student (Anja) and I decided to go on a road trip from Melbourne to Sydney for the entire two weeks.
Our tour started from Melbourne with our little rental car, a Hyundai Getz, heading East towards our first destination. The 320km to Lakes Entrance is quite drive on a highway, but we decided to take several stops along the road and planned the entire day to be traveling. One of our stops was at the "Golden Beach", also called 90 Mile Beach, that is very popular in the summer months for fishing, sailing and other water sports. Our first overnight stay was at Lakes Entrance, a tourist and fishing town situated near an artificial channel connecting the Grippland Lake to the Bass Strait.
The following day we headed North, as we wanted to reach the Snowy Mountains. We decided not to take the easy route on a nice tarred road and rather crossed the mountains on a dirt road making it all a bit more adventurous and scenic. It was absolutely worth it, as we had some amazing views, no traffic at all, and comfortably drove through the narrow roads in the mountains. By the evening we had reached Thedbo, a little skiing village, and suddenly realized we were not well equipped with warm clothes. We stayed two nights there as Thedbo also has a ski lift that takes you up the Snowy Mountains and where hikers commence their climb onto Mount Kosciuszko, the highest mountain in Australia with 2,220m altitude.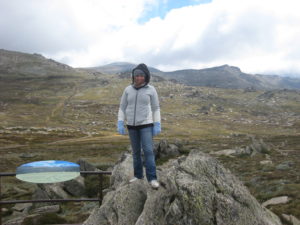 So our mission for the next day was at least to get to see a part of Mount Kosciuszko and we went on a short hiking trail. Beforehand I had to buy some additional warm clothes, hat and gloves, as the wind was blowing hard. We simply went for a walk on the walking trail towards the highest mountain in Australia, until the cold became unbearable and we headed back to the village for nice hot cup of tea.
From Thedbo our journey continued to Canberra, Australia's capital city. Canberra is a very modern city, and cannot be compared at all with Melbourne or Sydney. Canberra's major monuments, national buildings and key attractions are all situated around Lake Burley Griffin within the Parliamentary Triangle, specially designed in this symmetry. Attractions include Parliament House, the High Court of Australia, the National Library, National Gallery, Australian War Memorial and Anzac Parade. I wouldn't put this city as a must-visit on my list, but if you are already close by you may want to spend a day there.
After a few days in the mountains and the capital city, it was time for us to head towards the coast again. We drove from Canberra South-East to Batermans Bay, and then North along the coast passing Pebbly Beach to Jervis Bay. Jervis Bay is considered as one of the most beautiful natural harbours in Australia and famous for its naval bases, national parks, and some of the whitest beaches and crystal clear waters in the world. Around Jervis Bay we went to look at Cave Beach as well Cape St. George Lighthouse. Unfortunately, the weather in April is not that hot anymore to enjoy the beaches in this area, and hence we continued to Wollongong where we stayed overnight.
From there we drove the following morning to the Blue Mountains National Park, situated northwest from Sydney. We stayed in Katoomba, which is the largest town in the vicinity of the national park. Upon our arrival, we immediately went for a short 1-hour hiking trial (Fairfax Heritage Track) to view the beautiful Blue Mountains, and then visited the "Three Sisters", a spectacular rock formation, at sunset. On our second day we went for the Grand Canyon walking track that takes you on a 6.3 km loop through the forests of the Blue Mountains. Within 3-4 hours you can finish the walking trail after having passed by beautiful waterfalls and scenic lookouts. Absolutely a nice track that I can recommend!
After our adventurous days in the mountains, we headed to Sydney where we spent our last 3 nights. It was my first time in this amazing city and hence there was a lot to be seen. To get an overview of the city, we first went to the Sydney Tower giving you a bird's eye view of the entire city. Get ready for long walks in this city, as everything is within walking distance but you still need to have comfortable shoes. On our must see and visit list was: the Circular Quay with the Sydney Harbour Bridge and the Opera House, the area "the Rocks" (offering a taste of Sydney's past), as well Darling Harbour (offering shopping malls and fine museums). Within the city center we also took a walk through Queen Victoria Building that takes up an entire city block, which used to be a market and is now a shopping mall.
The suburb Paddington is also a must visit, as its streets are a treasure trove of galleries, bars and restaurants. A market takes places in the grounds of Paddington Village Uniting Church every Saturday, and is probably one of the most colorful in Sydney. Stallholders come from all over the world displaying their wares and new designs. I really loved it!
As you are already in Paddington you now have to visit Bondi Beach, the famous mecca for sun and surf. This long crescent of golden sand is approximately 1km long. We got ourselves some take-away fish and chips and had a nice relaxing lunch on the beach.
Manly is a great excursion outside of the city that you can reach with a 11km long ferry ride from Circular Quay to Manly. Enjoy a stroll on Manly's esplanade named "The Corso" which is a lively pedestrian walk with souvenir shops, restaurants, and bars that leads to Manly's ocean beach. These are just a few highlights to name from our Sydney exploration, but you can easily spend a week there and you still have not managed to see everything that this city has to offer.
Here we ended our road trip, and returned back our rental car, as we took the train back to Melbourne. It was an amazing journey and only the beginning of my Australian adventures.