Once we had finished our exams of the semester, I finally had 2 and ½ months for traveling before starting the new semester back in Germany. How can you go to Australia and not see its outback? So this was the next tour we had planned, a nice long journey from the North to the South of Australia within 3 weeks.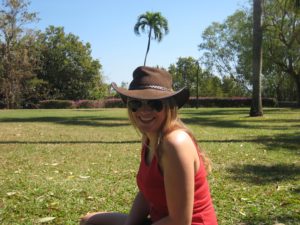 We flew up from Melbourne to Darwin, the capital of the region "Northern Territory", also called the Top End. It is a very tropical region and hence the best time to visit is in winter during the dry season. Darwin is a quite modern but relaxed town. On our first day we simply chilled at Bicentennial Park with a view over the bay before we started our tour. We had booked a 9 day journey with Adventure Tours joining many other backpackers with the trip ending in Alice Springs.
Our first destination was Litchfield National Park, located 129km south of Darwin. It is very popular for its waterfalls, gorges and deep, crocodile-free natural pools. We stopped at the Florence Falls, and Buley Rockhole, where we went for swim in the upper-pools. The pools are so deep that you can literally jump in without to worry hurting yourself. The park has also some amazing giant magnetic termite mounds. One of them is over 5 meters high and about 50 years old.
From there we moved back towards Darwin and then 150km east to Mary River National Park. Here we went on a boat trip on the river to admire the enormous saltwater and freshwater crocodiles. It is impressive to see these creatures so close by in the wilderness. After a river cruise to headed further east to Kakadu National Park.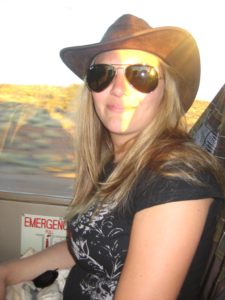 The vast 19,757 sq km of Kakadu National Park, with its stunning diversity of stony plateau, red escarpment cliffs, waterfalls, billabongs, long twisting rivers, flood plains, and coastal flats, is once of Australia's most extraordinary places. It is also a UNESCO World Heritage Area and offers as well huge galleries of Aboriginal rock art – for example at Ubirr situated on the edge of the Nadab floodplains from where you have spectacular views. This is also the place where the movie "Crocodile Dundee" was filmed. We then headed to Maguk (Barramundi Gorge), where a hike was rewarded with a reviving swim in the plunge pools. It is not without reason why we have stayed two nights at Kakadu National Park, as there was so much to explore. To learn more about the Aboriginal culture we visited the Bowali Visitor's Center giving you a good overview, and then continued our adventurous journey. With a 4WD we drove towards Jim Jim Falls, where during the last 1km we had to hike over rocks to the base of the falls. We then continued to the Twin Falls and had to drive through a river that is also home of crocodiles. You can only reach the Twin Falls by boat shuttle taking you to the base of the falls. It is indeed an amazing and diverse experience in one day.
After two amazing days we left Kakadu National Park behind and the journey continued to Katherine, located 320km south of Darwin. Here we visited Katherine Gorge (Nitmiluk), which is part of the Nitmiluk National Park. We had the choice to either explore the gorge on a hike along the river or by canoeing. I decided to experience this amazing site by canoeing together with other participants. Definitively an unforgettable memory!
From Katherine we headed further south to Tennant Creek. This was our longest day on the road, as we had 670km to drive. Not far from Katherine, we had our first stop at Mataranka Thermal Pool and Rainbow Spring, where we went for a swim in the hot thermal pool surrounded by lush tropical forest. For lunch we stopped at the iconic Daly Waters, the Territory's oldest pub, which is famous for all the items that all travellers started to leave behind. For example there is one wall with various car plate numbers from all over the world, one wall with all sorts of different invalid identity cards, or there is also the "thong tree" with old and broken flip -flops from travellers that passed by. It is definitively a funky place and worth for a stop. After lunch we continued to Tennant Creek, where we camped and for the first time most of us slept outside around the fire place, each one snuggled in their swag (Aussie bedroll) and watched the countless stars in the sky.
The next day we went to check out the sacred site of the Devil's Marbles, situated 104 km south of Tennant Creek. It comprises a collection of huge, spherical, red granite boulders, scattered across a shallow valley. For lunch we stopped at Barrow Creek Pub, home to the historic Telegraph Station, and you can see what Outback telecommunication used to be like. After crossing over the Tropic of Capricorn and a total of 510 km for the day, we finally reached Alice Springs. That evening we went for a nice steak and beer at Bojangles Saloon and enjoyed the socializing company of other backpackers.
Now we had our 3 highlights of the trip coming up: we headed 463 km southwest of Alice Springs to the Uluru-Kata Tjuta National Park. Rising high above the flat desert landscape, Uluru is one of the world's natural wonders, along with the 36 rock domes of Kata Tjuta (The Olgas), and also named as a World Heritage Site. We first visited Katha Tjuta, also called "The Olgas" and went on the "Valley of the Winds" hike that is absolutely fascinating. As the sun sets over Uluru, formerly called Ayers Rock, we found ourselves a great spot to watch the changing colors of the rock whilst sipping a sparkling wine and having some snacks. What better way is there to end a day in the desert?
The next morning we got up very very early and it was still dark when we left our campsite. In the end however, we got rewarded with a glorious sunrise over Uluru. There are a number of walking trails around Uluru, and we did the 3-hours, 9.5 km tour around the base giving us the greatest sense of its size. By the way, Uluru is 3.6 km long, 2.4 km wide, and stands 348 m above the plains. After lunch we headed to our campsite at King's Canyon, where we spent a lovely evening around the fireplace and eating barbecued marshmallows on a stick. That night I slept again outside in my swag, and the next morning we were all very surprised to find Dingo footprints in the sand, which means we had some visitors in the night that none of us had heard or seen.
Our last day with the group started decently early, as we wanted to explore and hike within King's Canyon, which is a spectacular sandstone gorge with walls more than 100m high set within Watarrka National Park. The first part is quite steep and for that reason also called the "heart-attack hill". Once you have reached the top, you are rewarded with beautiful views and the walking trails are easy. I can highly recommend this hike and track as the views are breathtaking. In the afternoon we drove back to Alice Springs where our official group tour ended. I would like to mention as well that the campsites were simple, but all were equipped with permanent tents with a light mattresses and all you have to do is bring or borrow a sleeping bag. At each campsite, we had to cook our own dinner (and sometimes also lunch on the road), and the various tasks were distributed to each participant. It was well organized and we also had groups rotating with doing the dishes. Overall, it was a great experience traveling within this group tour and I have met so many lovely people on this trip.
Anja and I stayed one more day in Alice Springs were we visited the a few more sites and relaxed a bit after the tough program we had for 9 days. We then took the famous "The Ghan" train that runs between Darwin and Adelaide with making a stop in Alice Springs, where we hopped on. The 1,559 km trip (between Alice Springs and Adelaide) offered amazing desert scenery and it took us 24 hours to reach Adelaide.
Adelaide, the capital of South Australia region, is a modern city but as well a city of great charm. It can be easily explored on foot, as it is compact, well laid out and flat. Within the city are a number of garden squares and gracious stone buildings. Located right in the heart of the city you will find Victoria Square and just west from the square you would find the Central Market offering diverse choices of foods and a part of that area has become Adelaide's own little Chinatown.
To the northeast, beyond Adelaide Hills, is Barossa Valley, one of the famous wine regions in Australia that also has an international reputation. Obviously, we had to have a look at the various wineries and explored Barossa Valley for a day. We also went for a few wine tastings, e.g. at Seppelt, Wolf Blass, Jacobs Creek and Chateau Barrosa.
Our last destination on this journey was Kangaroo Island, which is Australia's third largest island. To reach the island we headed about 100km south from Adelaide to Cape Jervis from where we have then taken a ferry to the island. Whilst we stayed in Adelaide at the hostel, we had met another German guy who was backpacking and asked us if he could join us for the 3 days on the island and we immediately agreed. It is always great fun meeting new people, and so the three of us took a rental car and went onto the ferry. Being winter, the weather wasn't that great and it was very windy. Hence, the sea was very rough and I was actually surprised that the ferry was still operational. The waves were indeed huge and for simply 16km on the sea it took us longer than the usual 45 min. We were quite glad reaching land and then continued our sight seeing tour on the island. The south coast beach of Seal Bay is home to a large colony of Australian sea lions. You need to participate on a short tour in order to see the sea lions sleeping or swimming on the beach. It was indeed beautiful scenery! Not far from Sea Bay you can also find the "Little Sahara", which is a naturally occurring sand dune system covering around 2 sq km and is one of the twenty listed geological monuments. In Flinders Chase National Park, situated on the west of the island, you have great chances to see very tame Kangaroos that may even approach you. At Kirkpatrick Point to the southwest of the island stands a group of large rocks. They are named Remarkable Rocks, because they have been eroded into weird formations by the wind and sea.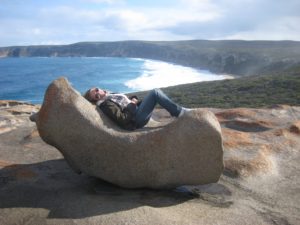 When it was time for us to leave the island to head back to Adelaide, we got stuck on the island as a storm was hitting Kangaroo Island. For safety reasons no more ferries were running between the island and the main land, so we found an accommodation in Kingscote waiting for the weather to improve. Even the next day, all ferries got cancelled. Time was getting an issue though, as we had a flight booked from Adelaide back to Melbourne. Anja however, had only 2-3 days left in Melbourne before heading back home to Germany and she needed to get back asap. She then took a domestic flight from Kangaroo Island to make it back on time to Melbourne, whilst I stayed on the island with the other guy hoping for the weather to improve because I had to return our rental car. Finally after two days, we were able to leave the island and I headed straight to airport to catch the next possible flight to Melbourne. Even I had only a few days in Melbourne before continuing my Australia tour on the west coast. These were incredible 3 weeks, and the various destinations couldn't be more different from each other. I wish I could turn back time and redo this trip again.