My new home for six months was Los Cabos situated on the southern tip of Baja California Peninsula. Los Cabos is the general name of the destination, which includes the 2 towns "San Jose del Cabo" and "Cabo San Lucas". The 30km between the two towns is called "El Corridor" filled with many beach resorts and in one of those I had the opportunity to gain my first Sales & Marketing experiences at the Westin Resort & Spa Los Cabos.
Cabo is a popular destination for Americans who make up 80% of the tourists in this area, and also well known for it's parties. Besides the parties, Cabo offers amazing golf courses and amazing deep sea fishing possibilities. I guess this was the perfect place for a 21-year old like me in those days to gain their first work experiences and whilst partying in heaven.
Hurricane Henriette
How could an internship in Mexico be more exciting than experiencing a hurricane in a beach resort? I have to admit that I was scared but at the same time excited about it. For days we have been following the movements of the Category 1 Hurricane Henriette hoping it wouldn't hit us. The night before making landfall we could see the first dark clouds and the first heavy rains started. On the morning of September 4, 2007 I headed to work with a big delay due to the main roads being flooded and the evacuation of all guests was already in full process. Around 400 guests of the Westin Resort, Grand Regina and Club Regina had to be evacuated from their rooms, and taken to our convention rooms. Each of the meeting rooms had different purposes, e.g. one turned into a sleeping area with mattresses on the floor offering pillows and blankets, one was a cinema for entertainment, one was a dining area including a breakfast, lunch and dinner buffet free of charge for all guests, and another one was a lounge area with Wifi connection. The center of Henriette made landfall just above our resorts in the afternoon with winds of 130 km/h and the strong winds forced us to stay all inside. At some point it was totally calm and the eye of the hurricane was exactly above us. Normally, the "tail" of the hurricane brings the strongest winds, but we were lucky that time. By 6pm we headed to check all 243 rooms (Westin) for damage before giving green light to the guest to return to their rooms.
Even though it was a Category 1 it caused severe damage to the resorts: all 12 suites had broken windows, as well as the presidential suite. The entire glass façade of one restaurant and the gym were broken. The fine-dining restaurant had to be even closed for renovations for one month.
By the time I got home that evening I was totally dead and had another surprise: our apartment was completely flooded due heavy rains. At that point I just couldn't give a shit, went straight to bed and cleaned everything up the next day.
Life is a Beach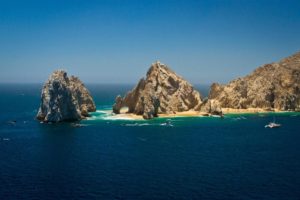 Los Cabos has so many different beaches to offer where to spend your days off, and even the climate is just perfect as it hardly ever rains. A famous icon for Cabo is "El Arco" (translated as The Arch), a rock formation at the southern tip of Cabo where the Gulf of California becomes the Pacific Ocean.
Next to "El Arco" is a beach accessible from two seas that you can reach by boat taxi. The one on the Gulf of California side is called "Lover's Beach" whereas the one on the Pacific Ocean side is called "Divorce Beach". Unfortunately, these beaches are invaded by many tourists, but still worth a visit.
Because the more beautiful beaches (also with less tourists) are along the corridor between the major towns (and bus transportation was very annoying), I was able to convince the best Dad in the world to buy me a car for those 6 months in Cabo. It was indeed a junk car, but sufficient to take me to work, explore Cabos beaches and even some weekend trips in the surrounding area. One of our favorite beaches was Chileno Bay, a public beach where most locals spend their free time, or Santa Maria Bay, which is a bit more protected and more suitable for a swim. Usually, we brought along a cool box with drinks and a picnic lunch box and spend all Sundays on this beach. Sometimes instead we would give ourselves a good treat, and spend Sundays at Nikki Beach Club (at the ME Hotel) drinking the best Mango margaritas and eating amazing sushi platters. At some point I decided to spend my free time usefully and started with my PADI Open Water Dive License. After 4 weekends of attending courses, doing my exam etc. I started to go for more dives in Cabo. There are really great diving spots in Cabo, and definitively worth a shot.
Fun, Fun, Fun!
Whilst I initially lived in San Jose del Cabo sharing an apartment with other interns, I also realized soon that the party scene was happening in San Lucas. At the same time I met Grissel, a super sweet Mexican girl from work who was living in San Lucas and was looking for 2 more mates to share the apartment. The decision was easy and only 3 weeks after my arrival, Lisa (another German intern I met at the Westin) and I moved to Cabo San Lucas.
The variety of bars and nights clubs was big and depending on our moods we had the choice of where to go. My favorite bar was the "Nowhere Bar" located at the Marina Waterfront, and most of our nights started there. Tuedays was lady's night and ladies got free drinks between 8-10pm, so you know where you could find me those days. When we felt like dancing Reggaeton music, we headed to "El Squid Roe" which offered 3 floors for dancing and an open balcony on the roof. It is also famous for its jelly vodka shots and waiters equipped with spray tanks of tequila. It was definitively one of our favorites those days, and definitively a must-see when you visit Cabo.
The "Passion Club" is more an upscale nightclub located at the ME by Melia Cabo Hotel and plays mainly commercial house music. I loved this place! For those who prefer rock music you should head to "Cabo Wabo" which is also very popular with Americans. There is a bit for everyone, and obviously some of the bars and clubs from 2007 do not exist anymore, and new ones opened.
Very popular were the Booze Cruises that we joined after work or sometimes on the weekends as a sunset cruise. The Jungle Cruise, a 2-hours trip, is a party boat that you can join for USD50 with unlimited drinks. (we obviously got discounts as residents opposed to tourists) The Jungle Cruise was always pretty crazy, a "sick" event and the main goal was to party hard with Reggaeton music. However, we also joined more tranquil sunset cruises that last 2.5 hours and cost around USD70 including unlimited drinks and food from a Mexican buffet.
Oh, I did not mention the food yet – Mexican food is just to die for!!! The Marina is filled with many great (but also pricey) restaurants that attract mainly tourists offering International cuisine. But the best places are where the locals go, small taco places with plastic tables and chairs. One of my favorite taco places is "Las Guacamayas" of which there are a total of 3 of them nowadays. However, the original one is located in San Jose del Cabo and in my view the best one. Must try: tacos al pastor (spli-grilled pork meat and cut just like a shawarma or doner kebab), which is by far my favorite, but it has also excellent fajitas and quesadillas. Those days it was so cheap and you would spend 2$ for a taco. My other favorite tacos place sells mainly seafood, we used to call it simply "Mariscos Place" also located in San Jose del Cabo close to the airport. Unfortunately, I don't remember the exact name. I always had the tacos de camaron (fried shrimp tacos) and almejas (raw venus clam). The fun part is when you add lime juice to the clams, all of a sudden they move and slightly shrink in size. Not everyone may find this appetizing but I simply find them delicious! The restaurants "Mi Casa", one located in Cabo San Lucas and another one in San Jose del Cabo, are great places to eat traditional Mexican food in a very vibrant colored ambience. Even though more touristic it offers a beautiful atmosphere. Other great dishes I used to eat allot were ceviche (raw seafood dish with citrus juices) or tortilla soup (spicy tomato broth with sliced tortilla pieces). Usually, you enjoy a fresh cold Pacifico beer in those taco places or a "Michelada", which is beer mixed with lime, salt, hot sauces, clamato (tomato juice and clam broth) and sliced chiles. It is so refreshing and apparently a great hangover cure!
Todo Santos, Cabo Pulmo, La Paz
Los Cabos has more to offer though if you are willing to head for a couple of hours drive. When my best friend Becci visited, we (4 girls) headed to Todos Santos, a small coastal town around 1 hour north from Cabo San Lucas. The casual, rustic atmosphere and life in Todos Santos is attracting more tourists nowadays, and for a reason it is called "Pueblo Magico" (Magical Village). We stayed at the "Hotel California", which is also a popular stop for tourists because of the name association with the song made famous by the Eagles, even though the song does not specifically reference this particular hotel. It is a charming, colorful and vividly decorated hotel with only 11 rooms.
Another trip worth for a weekend or even a day is to Cabo Pulmo, situated in the Cabo Pulmo National and Marine Park. Its pristine beaches give way to a shallow bay that cradles one of three living reefs (the only hard coral reef) in North America offering amazing diving and snorkeling spots.
La Paz, the capital of Baja California Sur, can be a nice trip as well, but can be very deserted in the winter months. A beautiful beach close to La Paz is "Balandra Bay" with crystal clear turquoise shallow waters, shallow enough to walk across the bay. A must visit in this area!
To summarize my 6 months in Mexico: they were just amazing and I found many good friends with whom I did weekend trips to Mexico City, Los Angeles and San Diego. Some of my new friends became family with whom I have stayed in touch with until today like Richard & Wendy with their 2 kids Sebastian & Isabella (I totally fell in love with them). Two more trips to Cabo followed as I was getting homesick: one in 2009 as a reward after finishing my bachelor thesis and another one in 2011 for the wedding of two close friends of mine: Miri & Joan. Cabo and my Mexican friends always remained in my heart, and would love to visit them one day again!
PS: The songs played in the video were in the top hit lists in 2007 and bring along many memories!