My next Australian journey was to Perth together with my flat mate Shiyavanthi. I so badly wanted to go to see the rugby match amongst the South African Springbocks and the Australian Wallabie and thus bought our tickets for the match on 19 July 2008 in Perth and decided to extend a couple days to see the surroundings as well.
The city of Perth lies on the Swan River, just 10 km from where it flows into the Indian Ocean. On our first day we simply walked around the city center to get overview of the city, as it is relatively small and a quiet city compared with those on the east coast. We went to Elizabeth Quay that is home to the Swan Bells Tower, and from where we walked towards King's Park, which is a 400 ha of both wild and cultivated parkland. It offers nice views over the city and Swan River.
For the following day, we as had booked a day-tour to the North coast. Our first stop was just in suburbs of Perth at Caversham Wildlife Park, a conservation park that is involved with several programs to ensure the survival of animals. Several daily attractions include the kangaroo feeding, meeting the koalas or even wombats. All of the animals are tame and you can touch them. It was a beautiful experience to get so close to them and not only seeing them from far away in the wilderness.
From there we continued 200 km north to the Nambung National Park. The park is famous for The Pinnacles, a region of curious limestone pillars, the tallest of which stand 4 m high. You can take either a driving trail or a shorter walking trail, which leads to lookouts with stunning views of the Pinnacles. Unfortunately, the weather wasn't great that day and the pictures are not as nice like if it was a sunny day. The national park is also composed of beach and sand dunes, with the dunes extending inland from the coast. Between the large white sand dunes we had a good laugh trying out sand boarding until a sand storm interrupted our fun.
On our third day, we finally had some great and sunny weather, and we headed by boat on the Swan River to Fremantle, one of Western Australia's most historic cities. From the jetty we walked to the Round House, which is Fremantle's oldest building. It also was the town's first jail where its cells overlook a small courtyard. We then walked along Bather's Bay beach until we reached the harbor and stopped for lunch having some delicious fish & chips. At the Fremantle Market you can find 170 stalls offering a variety of wares, from fresh vegetable to opals. Late afternoon we returned to our hostel to get changed for the highlight of this trip: the Tri-Nations Cup rugby match! Once I was wearing my rugby shirt I was ready to head to the Domain Stadium where there were many other South African's. We got ourselves some beers, looked for our seats and then enjoyed watching the match. I was extremely excited to finally experiencing a rugby match live. Unfortunately, Australia was to beat South Africa with a score of 16 – 9.
The next day we rented a car and decided to head east. After around 340 km we reached our first stop of the day named "Wave Rock" which is situated 5 km east of the small settlement of Hyden. Wave Rock is one the state's most surprising rock formations, which is great granite, wave that has been created from huge outcrop by thousands of years of chemical erosion, and reaction with rainwaters has given it red and grey stripes. After visiting this amazing rock formation we continued south for 350 km until reaching Albany in the evening.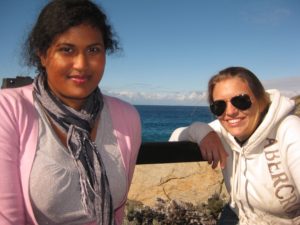 Albany is a port city where the harbor is still the commercial heart of the city. The town includes many old buildings e.g. St. John Church, the Town Hall, Patrick Taylor Cottage etc. On Albany's main street you can also see the statue of an Aboriginal man named Mokare who is celebrated as a peace market between Indigenous and European people in Albany in the 1800s. Not far from Albany is Middleton Beach where its waters are regularly filled with windsurfers and body boarders. A short drive around the point is Torndirrup National Park, with a multitude of natural coastal formations, including offshore islands and some excellent locations for whale-watching in season. The Blowholes, the result of water being forced up into a crackline in the granite, produce spay and loud sounds when a big swell is running. The pathway out to the Natural Bridge provides a stunning view of the bridge, a monumental span of granite.
Our trip continued then 50 km along the coast to the west until we have reached Denmark, a small town with a distinctly bohemian atmosphere. We stopped for a quick lunch before we headed to Ocean Beach, which is popular for its international surfing competitions. Not far away is the William Bay National Park that includes some favorite places to visit on the South Coast. Elephant Rocks looks exactly like a herd of elephants, paddling in the shallow waters, whereas Elephant Cove is accessed via a staircase, which descends between the rocks and ends in a beach. The Green's Pools offer a safe experience of the ocean, as it is almost completely sheltered from the waves of the Ocean by the rounded rock boulders. After hiking on rocks and walking on the beach we drove to Margaret River that we reached in the evening. We basically had to drive 380 km from Albany to Margaret River within a day with having a few sightseeing stops on the way.
Only the next day, which was also our last day as our return flight to Melbourne was very late in the evening, we explored a bit the town of Margaret River. It is a very attractive town that became center of an agricultural and timber region, as well as gained fame for its wineries. We visited a winery named Juniper Estate where we did a wine tasting and also got a few bottles to bring back for our families. We also stopped at Olio Bello, a multi-award winning producer of extra virgin olive oil and also home to a stylish Tasting Room and a popular Mediterranean Café. More than 14 varieties of olives are grown on the property, and they also sell an innovative range of citrus pressed and infused oils. Again we had to buy a few gifts for family and friends as the olive oil were divine! Our last stop Boodjidup Beach, a popular beach close to Margaret River with sheltered bays and cliffs faces looking out on to the surf. On our way back to Perth, we drove through Busselton and Bunbury, and after 280 km we reached the Perth airport for our evening flight back to Melbourne. It was a much shorter road trip than the previous ones, but I had too much fun with Shiyavanthi and I took great memories back.