And again I broke my promise that I wouldn't keep you waiting too long for updates, but believe me this time I have a very good reason to stay away from my laptop. Once I felt comfortable with my new Lenvatinib therapy I was able to enjoy my days without any side effects but I started having another issue: my wanderlust was not satisfied and I immediately had to change this. Why waste time on cold winter days in Germany staying indoors and afraid to get sick when instead I could be sitting somewhere soaking up the sun and feeling good, strong and positive? Even my doctor had already come to the conclusion that "TRAVEL is my therapy", because every time I travel and follow my passion I get an extra kick of energy.
One day I just got into planning mode and within a few days our next trip was all booked. There was no other place on earth I wanted to be more than South Africa and to make it worthwhile it had to be a 5 week long trip. On 13 March 2017, my mum and I took off from Stuttgart with Turkish Airlines via Istanbul to Cape Town, and reached the sunny African ground the following day. Cape Town, our first stop for 3 days, was a must on this trip as I wanted to visit my dear friend Izelle and finally meet her two gorgeous children that I only knew from pictures. We had no major sight-seeing program planned, as my mum and I have already been to Cape Town before, and to be honest my major objective was spending time with Izelle and her family. A visit at the Victoria & Alfred Waterfront on our second day was obviously compulsory, as we had to get ourselves organized with mobile phones, wifi etc. and also stopped for a our must-have "Fish n Chips" lunch whilst enjoying the music, the seagulls and the boat traffic around us. This time I was able to take my mum up onto Table Mountain, as we had the most amazing sunny weather on our third day in Cape Town (last time we had to cancel due to heavy winds and rain). I have to admit that I was extremely surprised on how well organized they are in relation with wheelchair friendliness. Even though we had no ticket booked in advance, we didn't have to make the 1-hour queue and the staff arranged tickets for us. Well, what else is there to say?
Once you are on top of the mountain you are simply blown away by the view over the city of Cape Town, Lion's Head, Signal Hill, Robben Island, Clifton and Camps Bay on the other side. We spend some time following the wheelchair friendly path way – well me sitting in the wheelchair whilst mum pushing me around – and absorbed the stunning views and our first African sunrays. To end our Cape Town days, Izelle took us to Camps Bay for a last sundowner drink and dinner at "La Parada Del Mar". We had some delicious tapas dishes such as mussels, calamari, salmon tartar, pork belly and more whilst sipping on my Sauvignon Blanc and looking at the sunset over the beach.
From Cape Town we had planned to drive up the entire coast passing the garden route to Pennington (70 km South from Durban), which turned out to be a relaxed 1850km road trip within 7 days. The following day we had a fairly short leg ahead, as we had to drive only 191 km to Gansbaai. On the way, we stopped in Pringle Bay, a small coastal town located on the opposite side of False Bay from Cape Point, visiting our friends Delene and Tony for a cup of coffee and some deliciously homemade milk tart.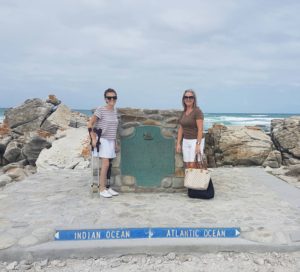 The next day we had to start our day early, as from Gansbaai to Knysna we had a total of 520km to drive including our special detours and stops along the route. We first headed to Cape Agulhas, which is geographically the most southern tip of the African continent and the beginning of the dividing line between the Atlantic and Indian Oceans. From there instead of taking the most direct route to Knysna, I decided to follow my friend Izelle's insider tip to eat the best "Bobotie Pie" ever, and we had to sort of drive back and detour by 60km. And yes, it was indeed worth the effort!!! If you drive on the N2 freeway between Cape Town and Mossel Bay, you have to stop at the "Ou Meul Bakery" at Riviersondersend and have one of the many mouthwatering pies. I wish I had one right now in front of me! The rest of the 332 km were an easy, flat and scenic drive along a mountain range until reaching Knysna, our destination for 2 nights. We stayed in a lovely, newly renovated B&B named 47th on Howard that was located 5 minutes drive from the waterfront. On our "off-day" (our so called not on the road day) we went on a short exploration tour in our own car around Knysna. The destination is well known for the large warm-water estuary, known as the Knysna Lagoon, which is fed by the Knysna River. The estuary opens to the ocean after passing between two large headlands, popularly known as "The Heads".
At the Eastern Head there is a viewpoint that you can reach via a very steep but paved pathway offering an amazing view over the lagoon and the ocean on the other side. Of course we ended up enjoying those views up there, and after walking back up the steep pathway to the car my energy resources for the day were already used, and we relaxed the rest of the day in the room and by the pool. For dinner we went to an oyster & seafood restaurant called "34° South" by the waterfront, where you can indulge the most mind-blowing wild oysters that Knysna and its surroundings are well known for, choose amongst a wide selection of sushi variations or simply seafood platters including lobsters. Be careful, as a protein shock is guaranteed!!!
The next day we hit the road again towards Port Elizabeth, a total of 280 km drive for us, but we stopped for lunch at Jeffrey's Bay, which is only 1 hour away from Port Elizabeth. Jeffrey's Bay is well known as one of the most famous surfing destinations in the world and also hosts the annual World Surf League surfing event at Super Tubes. For those who love Billabong surf wear you may find something at the Billabong Factory Outlet for crazy cheap prices… got to admit that 12 years ago when I was there the last time I ended up spending hours at the outlet. J In Port Elizabeth we stayed in a small self-catering place in Summerstrand, a very quiet and tranquil residential area close to the beach. We decided to stay there for 2 nights, as I could feel I need an extra "off day" just to sleep in, relax, recharge my energy level and ended up chilling by the pool and having several naps throughout the day.
East London was our next destination on our fourth leg of our road trip, roughly another 350 km drive from Port Elizabeth including our little sight-seeing detour. Instead of driving straight to East London, we decided to visit Addo Elephant Park, which is only 40 km away from Port Elizabeth. Due to its vicinity Addo Elephant Park can be easily arranged as a day-trip. We entered the park at the South Gate (Matyholweni Entrance Gate) by Colchester, and then drove through the park from the South to North towards the Main Camp (a total of 40km within the park). I really have to say, if you want to see Elephants guaranteed… especially many, many, many then you definitively have to go to Addo Elephant Park. Obviously, we have seen also other animals such as zebras, buffalos, warthogs, ostrich, and red hartebeests.
After our little morning safari tour we headed towards East London, our last pit-stop destination on our road trip. Instead of taking the boring N2 highway via Grahamstown, we took the slightly longer but more scenic drive along the seaside passing Port Alfred and reached our B&B just before dark.
Our last leg of the road trip was the longest one with a total distance of 579 km to overcome. The mileage itself however is not the issue, but it's a journey that stretches across hilly and twisting country roads with lots of road works and many trucks to overtake. Some sections of roads are blocked with stop and go signs, where you end up loosing a good half an hour with your car engine off. Nevertheless, driving through the former "Transkei", the home country of Nelson Mandela, offers a spectacular scenic drive of the green rolling hills dotted with traditional and very colorful Xhosa huts. Should someone recommend you not to drive through the former "Transkei" due to safety and crime, I can quiet your mind that two white women have done it without facing any problems. Two rules to follow: 1. Leave early in the morning to make sure you don't travel in the dark; and 2. Never stop anywhere along the route, besides the one and only "Ultra City Shell Garage" in Mthatha (and the road works). Our planning worked out perfectly, as by 5:30pm we reached our final destination in Pennington, a seaside village on the South Coast of Durban.
As of 23 March 2017 we spend most of our holiday in Pennington, because it's the hometown of my South African family and they have been the main reason why I wanted to go back there. My mum and I settled in well again in the same cute little cottage where we stayed in November last year, and simply enjoyed our friend's company, the nice tropical weather, and finally some tanning in the garden including the first proper swim in the swimming pool. Why stay in Germany where it is still cold, raining, passing the days on the couch in front of the TV, if I have the possibility to be in a warm climate and my lungs can benefit by breathing fresh sea air whilst I continue with my Levantinib therapy as I have been doing in Germany the previous 6 weeks. At this point I have to mention that I had decided to pause Levantinib during our little "road trip", as I wanted to avoid any surprising side effects when we are on the road. Doing this was perhaps not a good idea, as when we got to Pennington and I restarted taking the medication I got hit even harder with side effects. To cut a long story short: eventually my doctor and I mutually agreed to pause Levantinib throughout my stay in SA so that I can simply enjoy my holiday. Nevertheless, I also got sick on top of that with a very bad cough, so I ended up also taking antibiotics for a week.
My big plans to spend a few days in Pietermaritzburg and Nottingham Road visiting more close friends of mine, had to be shortened as I had to recover from delayed side effects and my flu. Most importantly though I still managed to spend one full day and evening with my dear friends Lisa and Mike and their two girls at Nottingham Road, and enjoy their new home and land where they recently moved in. To be continued…