The most exciting part of our holiday, however, was yet to come: my Dad, brother and two cousins from Italy joined us for 10 days.
On Friday 7 April, 2017 my Dad and Stefan arrived whereas Matteo and Simone landed on Sunday 9 April, 2017. Since I have been fighting cancer this was the first long distance holiday together with the entire family and it taking place in South Africa, our loving country, just made it all the more special. For my two cousins it was their first ever time in Africa, and we were extremely excited to share with them our experiences, stories and simply show them why we fell in love with this country. We booked a beautiful big pool villa during their stay at Eden Rock Estate, a luxury estate located in Pennington and hence close to our friends. Obviously we made sure that there was a bit of program organized for my cousins so as for them to experience some African adventure, cuisine and culture.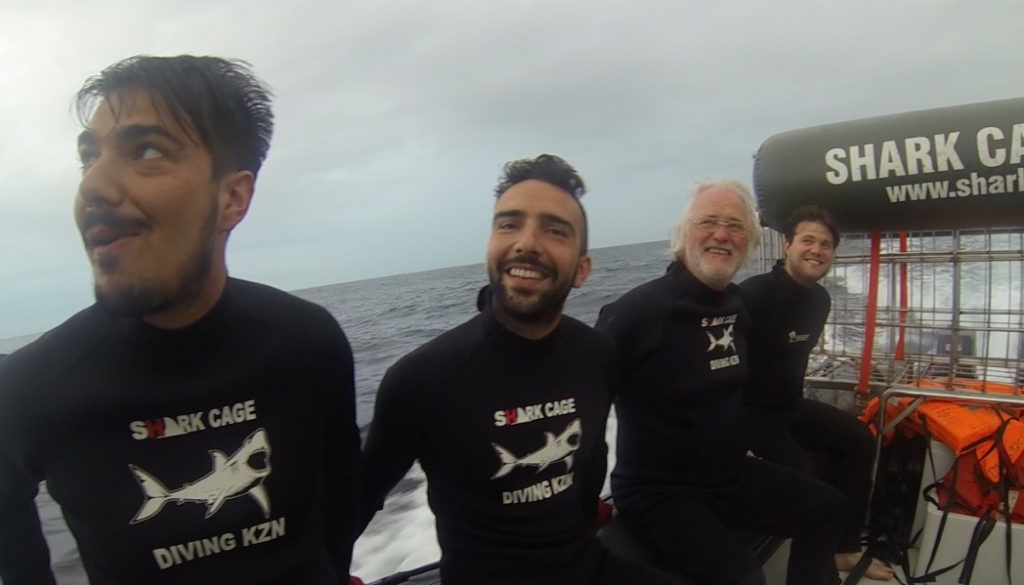 During our stay in Pennington I had arranged "Shark Cage Diving" for one morning. The four men (my Dad, my brother and two cousins) had to be at 6am in Rocky Bay, a small resort by the beach only 10 minutes drive from Pennington, where the boat is taken into the water. With full speeds the boat headed 8 km out into deep waters and far enough where the sharks will be fed and to be attracted to. Considering the fact that my youngest cousin Simone is claustrophobic, I am so proud that he fought his inner fear and jumped into that cage too. Once the four men got into the cage, the rope was loosened so that the cage flows about 5-6 meters away from the boat and they were fully surrounded by the view of the sharks. Tiger shark and Zambezi sharks are just two to name, which they saw, but there were around 10 sharks swimming around the cage. Whilst the four men were admiring the sharks from the cage, John (the dive expert) swam in the open waters together with the sharks and took pictures and videos of them, which later on are given on a DVD. The trip lasted a total of 2 hours and when we picked the four men up they were in such a euphoric enthusiastic state! A well-deserved big English breakfast including 9 a.m. beers at the restaurant in Rocky Bay was devoured!
The following day we wanted to inject some culture into the trip for the boys and headed straight into Durban town. First stop Victoria Street market the heart of the Indian community, which used to be a crowded noisy bazaar but today retains a quieter feel where one nonetheless can sample the tastes and aromas of the orient and indulge in African souvenir shopping. Within the powdery pyramids at the spice shops you may find the "Mother-in-Law Exterminator", the hottest spice you can find there, which my brother and my cousin decided to try. I can tell you: not such a good idea! Also a stop at the fish market across the street is worth a visit in the early mornings only to get a glimpse of the local seafood selection and fishing communities. For the brave ones, you can also visit the Muthi Market, also referred as Durban's "witches" market, where traditional medicine is being made and prepared for sale. The market's stalls are stocked full of various organic ingredients, which range from crocodile teeth and snake skins, to bird claws, plants, and a selection of mysterious powders.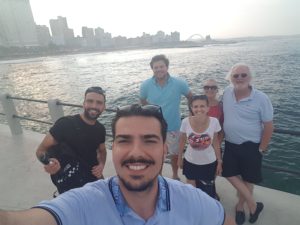 Durban's highlight is the Golden Mile, a 6 km long marine promenade where you can find bright and colorfully decorated rickshaws, craft sellers, amusement parks, an aerial cable way, pubs, restaurants and more all with a distinctive African – Indian influence. From the beach or even better from the pier one can admire surfers and body borders as they take on the Indian Ocean waves. Lunch was already decided by myself – it had to be the local Durban delicacy dish – Bunny Chow – a South African fast food dish consisting of a hollowed out loaf of bread filled with a spicy curry only found within the Durban Indian community. If you feel like a little (sweet & spicy) snack whilst strolling around at the marine promenade, have a masala-coated pineapple, which is as well a long-established street food from Durban.
Another highlight for the boys was deep-sea fishing South African style. This means a 5 a.m. meet up with the boat crew to launch the boar into the water just on the cusp of sunrise. Essentially the boat rides out approximately 8 km in proximity of various reefs where the boats can circle around (making sure they do not fish from the reef directly) cast the bait and continue to cruise in the hope of catching something. Catch of the day: 2 tunas at around 8kg each. Towards the end of the fishing trip they also tried bottom fishing that involves stopping the boat and dropping the fresh bait at only 2 km distance from the mainland. Catch of the day: several Slingers & Soldier Fish. As experienced deep-sea fishers this wasn't by far the best fishing trip however what was most important was we secured a fresh catch for our dinner! The tuna was sliced in half, grilled on the BBQ, spiced with a lot of lemon butter pepper and salt, simply the best and our favorite recipe.
On Saturday 15th April 2017, my dad and brother flew back to Germany whereas my mum and I took the boys for their very first safari. We headed around 300 km north from Durban to the Hluhluwe-iMfolozi Park where I had booked two self catering units at the Nselweni Bush Lodge for two night and by coincidence this was also the only wheelchair friendly lodge in the entire park! This unfenced bush lodge is situated on the bank of the Black Mfolozi River with superb view of the river and lush bushveld, and offers 10 chalets to choose from. The chalets consist of a bedroom, bathroom, kitchen and a veranda with a fireplace and only the back wall and the roof are made of a tent giving it a real African touch and feel. To make things even more adventurous and "African", at Nselweni Bush Lodge there is no phone signal at all, and electricity is limited to only certain hours of the day (5am – 10am & 6pm -10pm), and after 10pm our only light was a paraffin lamp.
With our fully packed 4×4 Toyota Fortuner – firewood, charcoal, cool box filled with food and beverages from eggs to rump steaks, beers and more, 2 big suitcases of clothes, 2 smaller bags and my wheelchair – we finally reached the park in the late afternoon and within the first 45 minutes drive we were welcomed by a rhino, elephant, impalas and zebras – the true African dream. Already on the first evening we had our first encounter when my cousins were starting up the fire and noticed a shadow lurking nearby the tent…. Immediately my cousins screamed, "I think I've seen a leopard!" but to their disappointment it was just a hyena that reappeared during our dinner time. The same ravenous hyena soon returned to lick our BBQ grill a few meters away and we all watched in excitement. We actually took a good video of the hyena, which can be watched in my video below.
A safari is not only about going on a "game drive" in an open viewing vehicle, but also exploring the bush by foot on a "game-viewing walk" conducted by a field guide. Obviously I had arranged this 3-hours walk for my cousins for the next morning, where they left the bush camp at 6am. Also on this walk they got to see plenty of antelopes, such as Impala, Kudu, Waterbuck, and even got 5 meters close to a buffalo. Thrilled from this experience they boys came back to the camp, and firstly emptied 4 cans of beer each together with their big English breakfast that we had prepared for them. With our 4×4 vehicle we then started our private game drive through the southern part of the park (iMfolozi) lasting the whole day until sunset. I insisted to drive within the park, as this was exactly what I used to do 12 years ago when I lived in SA and it simply threw me back my memory lane and for one day I totally forgot about my cancer. I've got to say that we were extremely lucky this day, as we got to see so many different animals, and every time one of us wished to see a specific one, it was shortly after right in front of us. Along our game drive we got to see all various types of antelopes such as Impalas, Kudus, Nyalas, Bushbuck, Blue Wildebeest, Buffalo, as well as other animals like Giraffes, Zebras, Warthogs, Elephants and White Rhinos.
We even drove on a specially designed "4×4 only road" that lasts 12.6 km, which indeed turned out to be very adventurous and courageous. The road was quite steep either uphill or downhill with huge cracks from the rainwaters and huge stones to overcome. It was quite scary being with one wheel up in the air and sort of hanging sideways trying to balance the car, but in the end it was lots of fun too. Towards the end of the day we were rushing to get to the main camp to buy more beers at the shop and to reach our bush camp before dark, when all of a sudden we noticed several stopping cars. So I reduced my speed and slowly got closer to the other vehicles. Suddenly we heard some serious roaring, and we knew there must be Lions. True enough, only 30-40 meters there were one male and one female lion lying under a tree. Can you believe it that in 20 years I have never seen lions this close in nature, and my two cousins do get to see them during their very first visit in South Africa? We were simply extremely lucky on this safari trip!! Eventually, we got back to our bush camp, made some fresh burgers on the BBQ, and again admired our nightly visitor, the hyena.
The following morning, we concluded our game drive safari in the northern part of the park (Hluhluwe) and got to see a huge herd of buffalos crossing a large field. A highlight was watching a baby rhino and its mother wallowing in mud and another two full-grown White Rhinos doing the same at a different waterhole. From the National Park we drove to the town Hluhluwe and had lunch at "Fig Tree Café' and Deli", which is located by Ilala Weavers. Nestled between a cluster of fever trees, on the outskirts of Hluhluwe is Ilala Weavers Gallery (curio shop), Zulu Cultural Museum, African Art Gallery and Nursery. The Gallery / curio shop features the largest collection of traditional Zulu baskets made of Ilala Palm or bark of wild banana, Wire baskets or plates that are made with brightly coloured telephone wires, as well as Souvenir Beadwork and Fashion Jewelry. The Museum displays unique and antique Zulu artefacts and the Art Gallery collected interesting pieces from various cultures across Africa. We have always liked to bring our friends or guests to Ilala Weavers, as it provides a cultural insight, offers souvenir shopping and it is always worth a stop for lunch. After lunch we drove on the N2 freeway towards the South, and shortly after leaving Hluhluwe behind there is another must stop: Zamimpilo Market. Zamimpilo, which means 'endeavour to work', is a cooperative market with stallholders from the surrounding community supplying craft and fresh produce for sale. Another little souvenir and shopping paradise for tourists!
By the late afternoon we reached our final destination St. Lucia, which is only 75km away from Hluhluwe. I had booked two rooms at a very charming B&B called St. Lucia Kingfisher Lodge, where we spent our last night together with my cousins. The B&B is located by the river and upon arrival at the parking area we all had to smirk when we noticed a sign saying "beware of Hippos at night". St. Lucia was meant to be our last night farewell dinner, and the boys were keen to have the last South African spare ribs. Unfortunately, I wasn't feeling well that evening, and Matteo and Simone had to go for their dinner alone.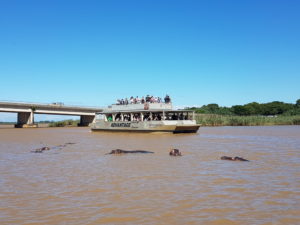 For their very last day in SA, I had arranged a 2-hour boat cruise on the river St. Lucia Estuary to see Hippos and Crocodiles. After having a good healthy breakfast we rushed to the pier for the 10am departure. Unhurried and whilst tanning in the sun, we were chugging along the river and watching out for Hippos, Crocodiles and various types of birds, such as Fish Eagles. We were very lucky to see plenty of Hippos during this cruise including some baby hippos being constantly protected by their mother. Sadly, we only saw two crocodiles, but at least one of them was out of the water and our boat got as close as 2 meters. After our last lunch together at "Reef + Dunes" in St. Lucia, we headed straight for 210 km to King Shaka Airport in Durban dropping off my two cousins for their flight back to Europe. The two boys continued their journey to Barcelona, as they had tickets for the Champions League Semi-Final of Barcelona vs. Juventus, whereas my mum and I spent two extra days in Pennington with packing, repacking and last tanning.
I have to say that this was a very special holiday for me, and I am so grateful I was able to do it. Not only because it was a journey to our beloved home country South Africa, but also because it was our first family holiday since I got ill and the actually the very first vacation together with my cousins. Additionally, I got something going of which I am quite proud of, something where we will collect many enchanting memories, but only time will reveal what it is.
Have a look at the video below for some amazing photo and video shots in South Africa!