Again I have broken my promise on keeping you updated more frequently and I sincerely feel very bad about it!!! However, you have got forgive me, as a trip to South Africa for 5 weeks is a damn good reason not to be online.
As I had mentioned in my blog "A beacon of hope" I was on a testing phase with a multiple kinase inhibitor called Lenvatinib and I was waiting for my test result from the tumor sequencing conducted in Heidelberg. Hence, my situation was stable and stagnant at the same time.
Two weeks before my departure I noticed that I had less appetite and I started to become a little bit picky with the food, which could be a delayed side effect from the medication Lenvatinib. For that reason my doctor and I decided to suspend the intake of the Lenvatinib during the first two weeks of my holiday. The idea of being on a road trip with my mum and having eating difficulties put me off, as I simply didn't want to be up against any issues whilst being on the road. It was the best idea ever because indeed I had an amazing culinary experience during this time, and I wouldn't have wanted to miss out on that.
The deal however was to restart with the medication once reaching Pennington, our main final destination. Just 4 days after beginning with the medication I got badly hit with side effects: nausea, vomiting and lots of pain. It was impossible to continue the treatment and my doctor and I mutually agreed to pause the therapy. Nevertheless, I also got sick on top of that with a very bad cough, so I ended up also taking antibiotics for a week. To top all that: I even had to go into hospital one day before my dad's and my brother's arrival because I needed a blood transfusion. This meant another overnight stay in hospital in those extremely uncomfortable beds. The oncologist doctor requested two blood units, but in the middle of the night I only received one unit including a note saying "due to a shortage of blood type 0 positive" they can only provide one unit. So bear in mind when you travel to South Africa: blood type 0 positive is very rare, whereas A & B positive are quite common.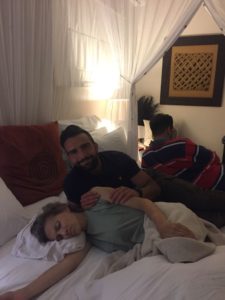 From there onwards things started to escalate a bit as I got the strongest pains ever at my back causing me to have no appetite at all which then resulted in the loss of a lot of weight. At this point I also need to mention that even during the first 4 weeks of holiday I had a little bit of back pain, but I thought these were just muscle aches from being active all of a sudden and that my mum was able to treat with a simple massage every night every day 24/7. 😀
Strangely my pain got worse during the nighttime and I kept my mum awake all night long. She even compared our situation with Guantanamo where the prisoners are sleep-deprived by waking them up every 15 minutes. I have to admit I was feeling very sorry for my mum. Luckily my cousin Matteo who is a physiotherapist helped out and conducted the massages during the day. When speaking to my family they say they observed a health change that rapidly worsened day by day.
My flight back home on the 22nd April 2017 turned out to be a nightmare. I was overdosed with painkillers, however the pain wouldn't go away. On the flight the stewardess even called out a doctor who then gave me a tranquilizer making the next 4 hours a pleasant journey. Again we were not so lucky with our stop over in Istanbul, which lasted 6 hours. When we arrived at the Business Class Lounge I put up a very pity face and asked for a private sleeping room, which was given to us in less than 10 minutes. So my mum and I enjoyed a 4 hours sleep before the pain kicked back in again. We then had to call an emergency doctor who turned to be, a pretty tall, blonde, in short white skirt, and high heels accompanied by two big fat Turkish assistants. This lady doctor did not understand that I was already overdosed with painkillers and simply wanted a tranquilizer for the last set of my journey. She, however, insisted to give me more painkillers and put me on a tramadol drip, which I got 30 minutes before boarding. To be honest I have no idea how I got home but I did.
We landed in Germany on a Friday and the plan was anyway to go to hospital on Monday for several tests, also because the last days in South Africa I started having an issue at my left arm, which was feeling numb, weak and sort of paralyzed. Nevertheless, the following day (Saturday), the pain got so unbearable where apparently I was only crying and shouting of which I cannot remember anything. My family then called the ambulance that took me to hospital and where I then stayed for two weeks. Several tests where conducted to find out the reason for the pains. The outcome of the first CT scan of the brain was clear and it wasn't the reason for my hand issue. The second scan was from the neck to pelvis, which showed a clear change of my cancer status. Basically all existing metastases have grown, plenty of new ones popped up in my lungs and liver, and my spine meaning all my vertebras are full with cancer cells, which have also grown into the spinal cord. The metastases along my spine are pressing onto the nerves, which are responsible for certain movements in my arms, and those are causing my issue on my left hand. At some point the surgeons thought they could conduct a surgery and remove some metastases from the spine, but then after an MRI scan they noticed the metastases have grown into the spinal cord and a surgery was no longer possible. The only option I had was to get some radiation done. So during my two weeks stay in hospital I also did 5 radiation sessions hoping it would reduce my pain and improve my arm movements.
Believe it or not – the first 4 days I was put into isolation because I had stayed in a hospital in South Africa within the last 6 months, and they had to test me if I was free of hospital germs. So every visitor (including the doctors and nurses) had to wear a lab coat and a mask before entering my room. I found it quite amusing! Furthermore, I weighed 33kilos upon my return from South Africa and I had to take parenteral nutrition just to give me some additional energy and increase weight quickly. Getting 1,400 calories extra over 10 hours in the night meant running to the loo every hour, and that was really annoying and another Guantanamo experience for us. Luckily, I got a single room and my mum was able to stay with me throughout my stay in hospital. I didn't get bored and at the same time I got lots of help.
My doctors have been very clear and open with me and the prognosis is not good. I have basically reached the terminal stage and I have taken a palliative team on board to regulate my pain therapy. I am taking a very high dosage of morphine that is keeping my pain level very well under control, and only once in a while I need an extra dose. With a bit of luck I may have a few more months, but some doctors talk about a few weeks. It's been now 7 weeks since I am back home and so far I have been doing very well. My family and I have been trained by an outsourced company to attach my port catheter with the intravenous food. I managed to gain a bit of weight, and then maintain it at 36kg. Additionally, I have an ambulant palliative team taking care of me so that I don't need to stay in hospital e.g. they do all pain management. I have been doing quite well and have not been in any pain at all for the first couple of weeks. However, in the event my pain level gets worse and not manageable through pills anymore, they would be responsible to provide a pump that manages my pain much more consistent and simply better.
At this point I have decided to simply enjoy life, to enjoy the time with my family and friends and receiving a lot of visitors. For example I have reconnected with people I have not seen in 25 years and most amazingly I have friends that travelled from Vietnam and Malaysia to visit me just for a weekend. These are indeed the precious moments in life. I probably didn't realize until now how many people are actually sharing in my life and illness, which has deeply touched me. I am really trying hard to revert to all messages I am receiving from all of you, but it does get quite a lot at times, and hence, I ask for my sincerest apologies if I reply late. I feel honored and proud having such amazing friends and family!