After I graduated from my studies in Hospitality & Tourism Management in September 2009, I applied for a job in Oman that was advertised at my university. The job was exactly what I was looking for: a management trainee position in Sales & Marketing for a small high-end luxury hotel company named Six Senses Resorts & Spa. Just the location was not exactly what I was keen on, which was Oman. With mixed feelings I applied for this position. It was the first job application I sent out, and I never expected that I would get the job in the first place. I still remember very well that I was conducting several phone interviews whilst I was in South Africa on vacation, and when I was being told that I was down to the last three applicants and I burst into tears! Can you imagine I was sitting in a little hill in the middle of an African bush field and I cried because I was scared to actually get the job? Pretty ridiculous of me as so many other people had been searching for jobs for months, whilst I was very lucky to be down the final stages of the application. By the time I had my final interviews and eventually got the job offer I was totally thrilled. I realized that this was an amazing opportunity for me and the location itself should not be a hindrance.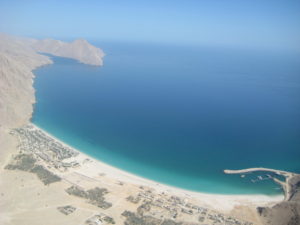 So in November 2009 I moved to Oman and started working at the Six Senses Zighy Bay Resort, which is located in the Musandam Peninsula, an exclave separated from the rest of Oman by the United Arab Emirates, and where the mountains rise more than 2000 meters above sea level. The resort is only 1,5 hours drive away from Dubai, and situated in a remote private bay close to Dibba. Living and working in Zighy Bay was a great experience where I learnt a lot and met some amazing people with whom until today I still remain in touch. Living within a hotel complex was in fact not so easy, as things are just like in a boarding school. I have always had a pretty independent life and all of a sudden your work colleagues watch every step you take, also on your days off. It was indeed a new experience for me, which I truly appreciated as I could see things from a different angle as well.
Within the same bay and next to the resort, there is a local fishing village located, which is also supported by the hotel company Six Senses. A project was helping the local community by building new houses for them, and educating them further about environmental sustainability or supporting them by buying locally caught fish. I participated in the project as well by putting up bricks and cementing a house wall. Once every 3 months we had an environmental day, where all Head of Departments and managers do a clean up by picking up any sort of rubbish in the area. For example we once did a full clean up day for 2-3 km along the riverbed from Dibba to the main gate of the resort. A group of divers also participated in the reef check program that is dedicated to the conservation of tropical coral reefs. I was part of this group and obtained a certification after passing the written and in the water test.
Living within a resort also has some advantages, as you get to do some of the guest experience adventures. Zighy Bay is well known for its extraordinary arrival experience by paraglide. Guests have the possibility (at extra cost) paragliding from the mountain into the bay. It certainly has a "WOW-factor", and obviously I arranged the paraglide arrival for my entire family when they visited. Another offered activity is flying with ultra-light, offering amazing views over the resort, bay and the waters. A must do in Zighy Bay as well! Dhow cruises are quite popular in Oman as well, where you cruise along the fjords of Musandam. We had several staff department parties or staff farewell parties on a sunset dhow cruise, where we had food, drinks and enjoyed a swim in the warm sea. On my birthday, the Director of Sales & Marketing (my boss) took us on a cultural excursion through the mountains in Musandam. We had a beautiful walk through local villages and wadis (river beds), and enjoyed the stunning views over the steep canyons. On another day, the entire management team went on a downhill mountain bike ride through the mountains until reaching the arrival gate of the resort, where a snacks and refreshments awaited us.
Besides learning a lot on the job, I have met some wonderful people that truly enriched my life even the years after I have left the Middle East. In particular these people are Tara, Richard and Chris with whom I stayed very close and until today we try so see each other often. Some fun and crazy room parties happened in our staff accommodation or we had some amazing weekend trips to Fujairah or Dubai. I do have some great and funny stories to write about our insane parties, but I have to remain discreet and those cannot be told on a public platform.
Dubai turned out to be our weekend getaway destination, as all of us were longing for a social and city life after spending a week or two at the resort where privacy was quite limited. In order to avoid work colleagues on my off days, I would be stuck in my room for the whole day and do a movie or series marathon. Therefore, I approximately spent every 2 or 3 weeks a weekend in Dubai visiting either one of my best friends Danilo who was working there or getting myself cozy in one of the five-star hotels. We were able to get special discounted rates in certain hotels, as we work in the "same industry" and hence most of the time I ended up either at Raffles or at the Park Hyatt. Once though my friend Kate and I wanted to spoil ourselves and stayed for a night at the newly opened Armani Hotel located in the Burj Khalifa, the tallest building in the world. During those Dubai weekends I had to recuperate my social life, and ended up doing some serious shopping at the Dubai Mall or Mall of Emirates, dining out in fancy restaurants or even partying in the trendiest clubs those days, such as Cavalli Club, Armani Prive and Boudoir.
Dubai really has quite a lot to offer for people living there, also activities wise. There are also some beautiful golf courses, which is something my dad and brother couldn't miss out on when they visited. With friends we also rented a boat and went wakeboarding around 'the Palm' and spent the days at the beach. For a friend's birthday, we rented a big yacht and cruised around for several hours and had a big party on the boat. As you can notice my private life was all about partying, but to my defense I was only 24 years old those days. During the hotter summer months, when there are 40 degrees Celsius and above, we enjoyed the water parks at Atlantis and Wild Wadi.
Dubai is a quite modern and vibrant city that keeps changing from year to year. New buildings and new attractions arise every month, and the trendy places keep changing. I am not going to write about the must-see and must-do attractions in Dubai, as it has been a while since I have been and surely things may have changed a bit. However, if you haven't been there and you plan a trip to Dubai, you definitively should include the "Old Dubai" (named Bastakiya) giving you an insight of the traditional culture, which is located next to the creek. In that area is a textile souk located where you can find all sorts of traditional clothes, as well as beautiful pashmina scarves. A traditional boat cruise or even the cheaper way by water taxi takes you to the other side of the creek, where you find the gold souk which is also worth a walk through.
The modern Dubai is all around Downtown, which is where the tallest building with over 800m is located: Burj Khalifa. From the observation deck at the top you have a breathtaking view over Dubai and you can admire the artificial islands of "The World" and "the Palm Jumeirah". By its base are Dubai Mall and Old Town, while the centerpiece is the spectacular Dubai Fountain, where jets of water shoot 150m into the air in synchronization with classical and Arabic music. The Dubai Marina, as well as the Souk Madinat Jumeirah attracts many people and tourist due to the immense variety of bars and restaurants providing also a great atmosphere.
Three times my family visited me in the Middle East, and all times we combined their visit with a few days in Dubai and a few days in Zighy Bay. The first time only my mum came, whilst the second time she came together with my grandmother (who was 84 years old those days). In December 2010, my entire family (dad, mum, brother, grandmother) visited to spend New Year's Eve in Dubai followed by some relaxing days by the beach in Zighy Bay. Of course they were also keen to see Burj Al Arab from inside, the only 7-star hotel in the world, but in order to get inside you need to have either to stay there or have a restaurant reservation. Hence, we booked a table for lunch on the 27th floor and dined with stunning views over Dubai and the Palm. It can be quite an expensive meal if you have some wine accompanying your courses, but that's the sacrifice you got to do if you want to get in. An alternative and cheaper way to enter Burj Al Arab is going there for "high-tea" in the afternoon at the Sky Bar (also located on the 27th floor), which is what I did with mum when she visited alone. In my view the high tea is probably the better option out of the two.
Besides of shopping, dining, golfing everyone who visits the United Arab Emirates should go on a desert safari. It is quite adventurous blasting four wheel drives up, down and around massive sand dunes and passing old Bedouin villages. There are many companies offering various types of desert tours, some more touristic and some more authentic including an overnight stay in a Bedouin tent. It's up to you what and where you want to go!
I have just listed a fraction of what you can do and see in Dubai, but I leave this up to each one of you to discover what you are interested in. Perhaps a few days in Abu Dhabi may fascinate you as well? I have only given an insight on how I "lived" and enjoyed my time in the Middle East and most likely many things have changed since 2010. In my point of you view, Dubai turned out to be a quite commercial touristic place that counts more and more visitors each year.
In my next blog post however, I will write more detailed about Oman, the country I actually worked at, and its charming cultural aspects, as it is not yet so much on a tourist map as other Middle Eastern destinations. Even though the popularity of Oman has increased today there are still many people who have no idea where it is located, but everyone heard about the modern and spectacular Dubai.
Have a look at the video that gives you some nice impressions of Zighy Bay and Dubai!