So here I am on my last Australian road trip and I was lucky that my mum and brother joined me for this one. Obviously upon their arrival in Melbourne we they stayed with me in my apartment and spend a couple of days to show them around in the city that I called my home for the last few months.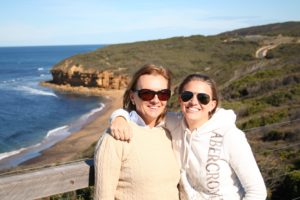 We headed on a day trip to the Great Ocean Road one of the world's most scenic drives and listed as Australian National Heritage. The road stretches 243 km along the south-eastern coast of Australia between Torquay and Allansford offering curving roads with striking views. The Great Ocean Road is mainly famous for the "Twelve Apostles", a collection of giant eroded limestone sticks off the shore of the Port Campbell National Park. In the same National Park you will also find "London Arch", a natural arch also formed by erosion. Other key attractions include the Bay of Islands, an impressive large collection of mammoth rock outcrops, as well as the "Gibson's Steps named for the series of steps leading down to Gibson's Beach. Unfortunately we were not very lucky with the weather that day, and hence we were not able to see the last two sites, but we still had a beautiful scenic drive and great views over the Twelve Apostles.
How could my mum and brother visit me in Australia and not see the most famous Australian and red rock Uluru? So from Melbourne we flew to Alice Springs and rented a car to take a scenic drive through the outback until we reached Uluru-Kata Tjuta National Park.
I basically did the same tour with them as I did a month prior with the group, and we went first for a hike at Kata Tjuta, also named the Olgas. From there we headed to the compulsory sunset view over Uluru admiring its color changes. The following morning we got up early to see the sunrise at Uluru, and then went for the 9.5 km tour around the base. After exploring the area and also visiting the museum, we drove to our new accommodation at the Watarrka National Park. The next morning, our last day in the outback, we were up for the "Heart Attack Hill" challenge to get up into King's Canyon. A 6km walk followed through the Canyon and once again its beauty and its stunning views fascinated me. We then took an evening flight from Ayers Rock Airport instead of driving all the way back to Alice Springs. With a very small Qantas aircraft we flew up to the east coast to Cairns, and for the first time I set foot on Queensland ground, Australia's most popular tourist destination after Sydney.
Cairns is the main city of Northern Queensland. Despite its beachfront esplanade, it has a city atmosphere and instead of sandy beaches there are mudflats. Also here we rented a car, as we wanted to explore the surroundings and also drive north to the smaller villages. When we headed north we firstly stopped at Port Douglas situated 75 km from Cairns that once was a tiny fishing village. Today it is a tourist center, but it still managed to preserve some of its village atmosphere. From there we headed further North until reaching Cooktown, a little village named after Captain Cook when he and his crew spent six weeks in this area to repair their ship, which was damaged by a coral reef in 1770. It was the first white settlement in Australia and this is proudly presented. Several historic buildings survived in the village and can still be seen. We stopped for lunch here and got spoilt with amazing seafood and went for a walk along the bay.
After leaving Cairns we headed south with the destination Townsville, situated 350 km south. However, we took several stops along the way and went to Millaa Millaa Falls. These are magnificent waterfalls surrounded by lush rainforest located on the Waterfall Circuit, along with Zillie and Ellinjaa Falls. All three falls are located only a few kilometers apart from each other.
For lunch we stopped at Mission Beach, a small tourist village, that also offers a wide golden sandy beach. We bought ourselves some fish & chips as a take-away and enjoyed our lunch on the beach with a view over the ocean. We then continued our drive south to Townsville, where we wanted to stop overnight. I was driving and when we were about to enter into the city all of the sudden a car hit us on the side and pushed us into a stonewall. The driver of the other car suddenly accelerated – it was a hit and run. I followed him several kilometers until we managed to note down his car plate number. Instead of going to our accommodation and enjoying a yummy dinner in town, we ended up spending lots of time at the police office as well as arranging a new car with the rental car company. By the time we got to our hotel we were exhausted and annoyed on how this evening had turned out. In the end we got to know that the police had found the driver with its car: it was a drunk Aborigines man who hit our car. Townsville didn't leave a great impression to us, and the next morning we were eager to leave as soon as possible!
Our next stop for three nights was at Arlie Beach, the main tourist village, in front of the Whitsunday Islands. After moving around for the past week, we needed some relaxing beach time.
One day we went on a day trip on a catamaran that took us to the Whitsunday Islands and Whitehaven Beach. (Note: this was not a private cruise but with other people on board). After some speedy sailing around the islands, we stopped at a great snorkeling spot and snorkeling gear was provided to everyone who was interested. When the catamaran anchored in a bay, a nice BBQ lunch was served for everyone. The highlight is when we stopped at Whitehaven Beach, a spectacular 7 km of white and powder-fine sand beach on Whitsunday Island. We sun-bathed on the beach and enjoyed a swim in the cool waters, but for our taste we didn't stay long enough. Sailing at high speed into the sunset was an amazing way to end the day.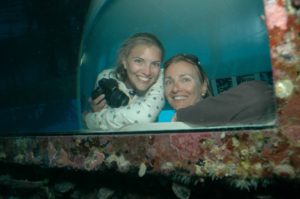 The second day we wanted to spend it at the Great Barrier Reef, as I wanted to go scuba diving, but at the same time it needed to be adequate for my mum and my brother too. We ended up going on a full day adventure where a huge high-speed boat took us with a bunch of other people out to the reef. Once we got there, a big interactive pontoon awaited us offering sundecks, underwater viewing chambers, kids slides into the ocean and more. You could either go snorkeling on your own, or you could participate a guided snorkeling tour. I finally got to do what I really wanted: a dive at the Great Barrier Reef. I booked myself into the first group going for the morning dive and off I went. Incredible colorful corals and fish crossed my ways, as well as a big friendly fish named the Moari Wrasse fish that comes close to the divers. Whilst my mother enjoyed the sun on the sundeck or took underwater pictures in the viewing chamber, my brother participated in a crash-diving course. After having practiced all major exercises and he felt comfortable enough to dive, he went on a short dive with the instructor and for the first time in his life he was able to see the underwater world as close as I did. It was a indeed a lovely day for us, and even though I would consider this kind of tour a "tourist trap" it still provided us everything we wanted to do in such a short time. Alternatively, I would have gone alone on a scuba diving trip, leaving my mum and brother behind but this was the perfect solution to get all done in one day and we stayed together. Our Queensland experience ended here, even though there was so much of coast to do until Brisbane, but our time was limited and only had a few days left to be spent in Sydney. Hence out of Mackay Airport we flew to Sydney for our last Australian days.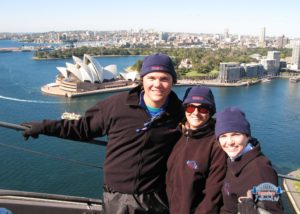 Once in Sydney we obviously ticked off the same old sightseeing spots as during my first visit in the city. From Darling Harbour, to the Rocks, from the city center including Queen Victoria Building, the Strand Arcade shopping mall, Hyde Park, Town Hall, to Chinatown including the Paddy's market, the oldest one in Sydney. We wanted to do the full on tourist program, so we ended up doing as well the "Bridge Climb". It is definitively overpriced, but still pretty amazing experiencing the climb on the bridge as well as then being rewarded with a stunning view over Sydney's skyline, the Opera and the bay. I would do it again if I had the choice. A pretty nice shot was taken from us at the top!
One day we went for an inside tour of the Opera House which was quite interesting as well. However, we asked ourselves how would it be like to actually see an opera there. We then asked at the information desk what operas or plays would be shown whilst we are in Sydney. Instead of watching a traditional Italian Opera we decided to watch a play/dance produced by the Bangarra Dance Company. It was called "The Story of Mathinna" which is about an indigenous Australian girl who was adopted and then later abandoned. Watching and listening to a local story was so much more interesting and inspiring and it was great way to almost conclude our Australian trip. To round up our visit in Sydney we couldn't miss Manly and Bondi beach, which were our last destinations on our amazing trip.
Only one hour apart from each other, we all boarded our flights at Sydney airport: my mum and brother for their flight to Johannesburg / South Africa, and me back to Melbourne to finish packing the rest of my stuff before heading back to Europe. My 6 months in Australia came to an end, and I feel lucky that I had amazing parents making all this possible. It was indeed a life time experience!